Izvor Informacija:
Memorial Sloan–Kettering Cancer Center (MSKCC) – Čak i najveći i najstariji privatni centar za proučavanje raka u svetu, sa sedištem u New Yorku je priznao dokumentovano lekovita dejstva medicinskih gljiva.
Naučni naziv: Agaricus Blazei Murill
 Takodje poznat kao ABM ili Royal Sun Agaricus, je popularan imunološki dodatak. Prvobitno je pronadjen u Brazilu u regionu u kom se zna da ljudi žive duži i zdraviji život od proseka. Kada je Vlada proučavala ovu oblast, da vidi zašto, ustanovili su da stanovništvo koristi gljive Agaricus redovno u svojoj ishrani.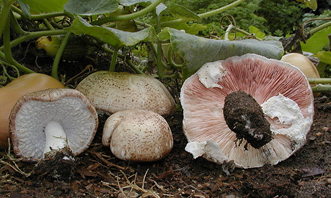 Postoji više sastojaka koji su identifikovani u Agaricus Blazei-u. Neki od važnijih su:
Beta-(1-3)-D glukan, beta-(1-4)-a-D-glukan i Beta-(1-6)- glukan. Poznatiji kao beta glukani ove supstance su najdelotvornija podrška imunološkom sistemu. Zatim provitamin D2 koji je moćan zaštitni agens
U studiji objavljenoj u "Međunarodnom časopisu o raku" u martu 2009. istraživači sa Univerziteta u Zapadnoj Australiji istraživali su uticaje Agaricus Bisporus na rak dojke. Studija je pokazala da pečurke koje se koriste u ishrani značajno mogu smanjiti rizik od raka dojke u pre-i post-menopauzi. Agaricus Bisporus može da spreči rak dojke dejstvom inhibitora aromataze koja smanjuje enzime koji povećavaju nivo estrogena i potstiču rast raka dojke, zbog čega gljiva ima svojstva supstance koja uravnotežava hormone i deluje hemo-preventivno.
Pečurku Agaricus Blazei otkrio je Takatoši Furomoto tokom putovanja u oblast Piedade, blizu São Paula u Brazilu. On je primetio da vrlo mali broj domaćeg stanovništva ove oblasti pati od nepovoljnih zdravstvenih stanja, a činilo mu se i da svi oni žive duže. Nakon malo istraživanja, zaključeno je da je tajna njihove vitalnosti pečurka Agaricus Blazei. Isto tako, dva američka naučnika nedavno su posetili Piedade i došli do sličnih zaključaka.
Da bi se otkrila dejstva Agaricus Blazei istraživanja Državnog centra za rak Univerziteta u Tokiju usmerena su ka miševima s kancerogenim tumorima. Svaki miš hranjen je ovom pečurkom- otkriveno je da je 90 posto kancerogenih tumora iz njihovih tela eliminisano. Još više zapanjuje činjenica da kod miševa hranjenih Agaricus Blazei nije došlo do daljeg rasta tumora.
Drugo istraživanje koje je sproveo dr Šodži Šibata, profesor Univerziteta u Tokiju, otkrilo je da Shiake i Reishi pečurke nisu efikasne kao Agaricus Blazei. Pokazalo se da Agaricus Blazei sadrži veću koncentraciju beta-glukana, polisaharida koji imaju veoma jaka antitumorna svojstva. Zapravo, ljudski subjekti u pomenutom istraživanju iskusili su povećanje od 3000 posto u broju ćelija ubica koje uništavaju kancerogene tumore.
Rezultati eksperimenata s Agarikusom na zamorcima
Sledeća tabela prikazuje rezultate testiranja antikancerogenih svojstava Agarikusa sprovedenih na zamorcima na Odeljenju za medicinu Univerziteta u Tokiju, laboratoriji Državnog centra za rak i Fakulteta za farmaciju u Tokiju.
| | | | |
| --- | --- | --- | --- |
| Name of fungus | Dailydosage | Rate of completerecovery | Anti cancereffect |
| Agaricus blazei Murill | 10mmg | 90.0% | 99.4% |
| Grifola umbellate | 10mmg | 90.0% | 98.5% |
| Phellinus yucatensis | 30mmg | 87.5% | 96.5% |
| Phellinus igniarius | 30mmg | 66.7% | 87.4% |
| Lenzites betulina | 30mmg | 57.1% | 70.2% |
| Tricholoma matsutake | 30mmg | 55.5% | 91.3% |
| Lentinus edodes | 30mmg | 54.5% | 80.7% |
| Coriolus versicolor | 30mmg | 50.0% | 77.5% |
| Pleurotus osteatus | 30mmg | 45.5% | 75.3% |
| Elfringia applanata | 30mmg | 45.5% | 64.9% |
| Fomitopsis pincicola | 30mmg | 33.3% | 61.2% |
| Fomitopsis cytisna | 30mmg | 30.3% | 44.2% |
| Pholiota nameko | 30mmg | 30.0% | 86.5% |
| Flammulina velutipes | 30mmg | 30.0% | 81.1% |
| Ganoderma Lucidum | 30mmg | 20.0% | 77.8% |
Tabela pokazuje da je Agaricus Blazei Murill pokazao visoke rezultate i u slučaju potpunog oporavka i glede antikancerogenih svojstava. U eksperimentima su korišćeni zamorci starosti između pet i šest nedelja, što iznosi 15 i 16 godina kod ljudi.
Ubrizgavanje sarkoma 180 (vrste kancerogenih ćelija) u butnu kost zamoraca obično izaziva širenje raka po celom telu i konačnu smrt skoro svih ovih životinja u periodu od četiri do pet nedelja. Ekstrakt pečurke dat im je prvi put 24 časa nakon što su ćelije raka čvrsto usađene u tkivo životinja, a s procesom se nastavilo tokom 10 uzastopnih dana. Rezultati su, zatim, zabeleženi četiri do pet nedelja kasnije. Eksperiment je ponovljen na grupi od između pet i deset zamoraca, od kojih je svakom dat ekstrakt različite pečurke. Srednje vrednosti zabeležene u ovim eksperimentima izražene su u procentima.
Stopa antikancerogenog dejstva predstavlja procenat zamoraca koji su se potpuno oporavili od kancera koji im je prvobitno ubrizgan kao sarkom 180 a kod kojih drugo ubrizgavanje sarkoma 180 nije uspelo jer ćelije raka nisu uspele uspešno da se unesu.
Iz ovih rezultata zaključeno je da ekstrakti pečuraka (čije su komponente prvenstveno visokomolekularni polisaharidi) aktiviraju imunitet normalnog biološkog tkiva, tako što daju snagu i energiju proizvodnji makrofaga i interferona unutar tkiva koji sprečavaju umnožavanje, metastaze i povrat ćelija raka.
Polisaharid koji se nalazi u Agaricus Blazei Murill daje snagu i energiju proizvodnji interferona i interleukina kod malih životinja (zamoraca). Ovaj efekat indirektno utiče tako što unštava ili sprečava razmnožavanje ćelija raka. To se odnosi na dejstvo koje izaziva citokin. Osim toga, eksperimenti koje su sproveli gorenavedeni istraživači dokazali su da ovo svojstvo može sprečiti i viruse i druge spoljašnje faktore da prodru u tkivo.
Klinički rezultati dobijeni u saradnji sa univerzitetskim istraživačima i bolnicama, od izveštaja o antikancerogenom dejstvu Agaricus Blazei Murill objavljenom na generalnom skupu Japanskog društva za borbu protiv raka 1980. godine, dokazali su da iako mnogi polisaharidi iz pečuraka utiču isključivo na solidni rak, polisaharidi iz Agaricus Blazei Murill dejstvuju protiv Erlihovog ascitesnog tumora, raka sigmoidnog kolona, raka jajnika, raka dojke, raka pluća i raka jetre, kao i protiv solidnog raka.

Rezultati ovih eksperimenata takođe sugerišu da ona aktivira i metabolizam, daje snagu i energiju normalnom biološkom tkivu.
Enzimi za varenje, poput amilaze, tripsina, martaze i proteaze koji se nalaze u pečurki takođe pospešuju varenje. Dalje, monofenol monooksigenaza, enzim koji je katalizator oksidacije tirozina i proizvodnje melanina, takođe ima hipotenzivno dejstvo.
Tek nedavno je u Agaricus Blazei Murill otkriven protein melanin čija je uloga proizvodnja sperme, dlake i belanca.
KRATAK KLINIČKI PREGLED

Osnovna primena u terapiji:
Arterioskleroza
Lečenje raka
Dijabetes
Hepatitis
Hiperlipidemija
Stimulativno dejstvo
Ključni sastojci:
Polisaharidi : beta – 1 , 6 – D-glukan
Steroli : ergosterol
Linolna kiselina
Lipidi
Anti – angiogeneze jedinjenja : Natrijum piroglutamat ( A-1 ) i2 –
Gajenje Agaricus Blazei-a
Ovu gljivu prvi put je identifikovao u savremenoj nauci 1917.godine mikolog R. Muril iz uzorka u Luizijani. Raste na pašnjacima na Floridi i u Južnoj Karolini, ali se generalno retko nalazi u prirodi. Jedino mesto gde je utvrdjeno da raste slobodno u prirodi je mala oblast u Brazilu. To je Piedate oblast jugozapadno od Sao Paula, gde se i danas gaji za potrebe svetskog tržišta.
Postoji značajna razlika u osobinama i kvalitetu pečurki u zavisnosti od toga gde se i kako gaje. Možda najvažnija razlika u odnosu na hemijske sastojke koji se nalaze u gljivama ima veze sa podlogom na kojoj se gaje. Istraživanja sprovedena u Alohi Medicinals pokazuju da se najbolji kvalitet gljive sa najviše beta glukana postiže ukoliko se ona gaji na žitu, posebno na organskom sirku i prosu.  Agaricus Blazei gajen na Havajima od strane Alohe Medicinals, je verovatno najveći u svetu sa prosečnom veličinom od 6-8 centimetara i prosečne težine od oko pola kilograma. Rast na organskom zrnu je skup način proizvodnje Agaricus Blazeia, ali u Aloha Medicinals smatraju da je vredno toga, jer su posvećeni gajenju i dobijanju najboljeg mogućeg kvalitetnog Agaricus Blazei-a.Uzgajivači gljiva su sproveli mnoga istraživanja kako bi utvrdili optimalne uslove pod kojima ove gljive rastu. Samo nekoliko uzgajivača van Brazila i to uglavnom u Kini i Japanu je uspelo da kultiviše Agaricus Blazei. Tu je i nekoliko uzgajivača iz Amerike koji ove gljive gaje u zatvorenom prostoru sa kontrolisanim klimatskim uslovima. Na Havajima se ove gljive gaje u zatvorenom prostoru sa kontrolisanim uslovima i na otvorenom. Najboljeg kvaliteta su one pečurke koje su proizvedene u zatvorenom prostoru. Ova činjenica se zasniva na rezultatima laboratorijskih ispitivanja i na veličini i ukusu pečurki gajenih u zatvorenom prostoru. Prilikom gajenja u zatvorenom prostoru moguće je u potpunosti kontrolisati temperaturu, vlažnost, protok vazduha, nivo ugljen-dioksida, kvalitet osvetljenosti. Svi ovi parametri su podešeni da bi se dobile gljive najboljeg kvaliteta. Kada se gljive gaje na otvorenom, na njivoh rast i razvoj utiče priroda ( klimatski faktori na koje čovek ne može da utiče). Takve pečurke su nekad dobrog kvaliteta a nekad ne.
Budite svesni da postoji velika razlika u kvalitetu imunoloških dodataka koji su danas dostupni na tržištu.
Ovaj tekst i sajt su edukativnog karaktera, namenjeni za opšte obrazovanje i u informativne svrhe, nisu zamena za profesionalni medicinski savet, ispitivanje, dijagnozu ili lečenje.
Bibliografija:
Clinical trials: Medline:
Life quality of postsurgical patients with colorectal cancer after supplemented diet with agaricus sylvaticus fungus.Costa Fortes R, Lacorte Recôva V, Lima Melo A, Carvalho Garbi Novaes MR.Nutr Hosp. 2010 Jul-Aug;25(4):586-96.PMID:20694295 [PubMed – indexed for MEDLINE]
Effects of dietary supplementation with medicinal fungus in fasting glycemia levels of patients with colorectal cancer: a randomized, double-blind, placebo-controlled clinical study.Fortes RC, Recôva VL, Melo AL, Novaes MR.Nutr Hosp. 2008 Nov-Dec;23(6):591-8.PMID:19132268 [PubMed – indexed for MEDLINE]
Effects on gene expression and viral load of a medicinal extract from Agaricus blazei in patients with chronic hepatitis C infection. Grinde B, Hetland G, Johnson E.Int Immunopharmacol. 2006 Aug;6(8):1311-4. Epub 2006 May 11.PMID:16782544 [PubMed – indexed for MEDLINE]
Memorial Sloan–Kettering Cancer Center (MSKCC) – Čak i najveći i najstariji privatni centar za proučavanje raka u svetu, sa sedištem u New Yorku je priznao dokumentovano lekovita dejstva medicinskih gljiva.
Hsu CH, Liao YL, Lin SC, et al. The mushroom Agaricus blazei Murill in combination with metformin and gliclazide improves resistance in type 2 diabetes: A randomized, double-blinded, and placebo-controlled clinical trial. J Alt Comp Med. 2007;13(1):97-102.
Because in vivo studies along with a small, pilot trial have reported the anti-diabetic activities of Agaricus, 72 participants with type 2 diabetes for >1 year and taking gliclazide and metformin for more than 6 months received with Agaricus blazei Murill extract or placebo. After 12 weeks, those participants receiving Agaricus blazei Murill extract (1500 mg daily) had reduced resistance (as assessed by the HOMA-IR index) compared with the placebo-control group, which was accompanied by an increase in adiponectin levels. Further studies will not only determine whether adiponectin modulation is the mechanism by which Agaricus extract affects resistance, but also the long-term clinical relevance of Agaricus for type 2 diabetes.
Ahn WS, et al. Natural killer cell activity and quality of life were improved by consumption of a mushroom extract, Agaricus blazei Murill Kyowa, in gynecological cancer patients undergoing chemotherapy. Int J Gynecol Cancer. 2004; 14(4):589-594.
In this study 100 patients with cervical, ovarian, and endometrial cancers were treated with either carboplatin plus VP16 (etoposide), or carboplatin plus every three weeks for at least three cycles. They were randomized to receive oral Agaricus extract (three packs per day, one pack each time) or placebo along with the treatments. Blood samples were drawn one day before first chemotherapy and one day before second chemotherapy. Researchers found that the Agaricus group had a significantly higher natural killer cell activity compared with those on placebo. In addition there was improvement in chemotherapy associated side effects such as emotional instability, alopecia, general weakness, and decrease in appetite. However, there was no difference in lymphokine-activated killer and monocyte activities between the two groups. Further studies are required to confirm these observations.